The Komets had one of their finest defensive efforts of the season. But it was undone by penalties.
Josh Wilkins netted the winning goal off a rebound, during a late-game power play, propelling the South Carolina Stingrays to a 3-1 victory Wednesday at North Charleston, South Carolina.
Jackson Leppard added an empty net goal, in front of 5,386 fans, mostly schoolkids, on hand for Education Day.
The Stingrays' top-ranked power play unit (24.5%) scored on the last of its eight opportunities, thanks to a fracas between Fort Wayne's Joe Masonius and South Carolina's Alexandre Fortin with just 2:04 remaining in the third period, after they collided along the boards in a 1-all game. Masonius got a double-minor for roughing and a game misconduct for inciting the brouhaha, while Fortin received a roughing penalty.
"It was a completely selfish act that ended up costing us the game. And that's completely within our ability to control," said Fort Wayne coach Ben Boudreau, who noted other penalties, such as "undisciplined stick infractions."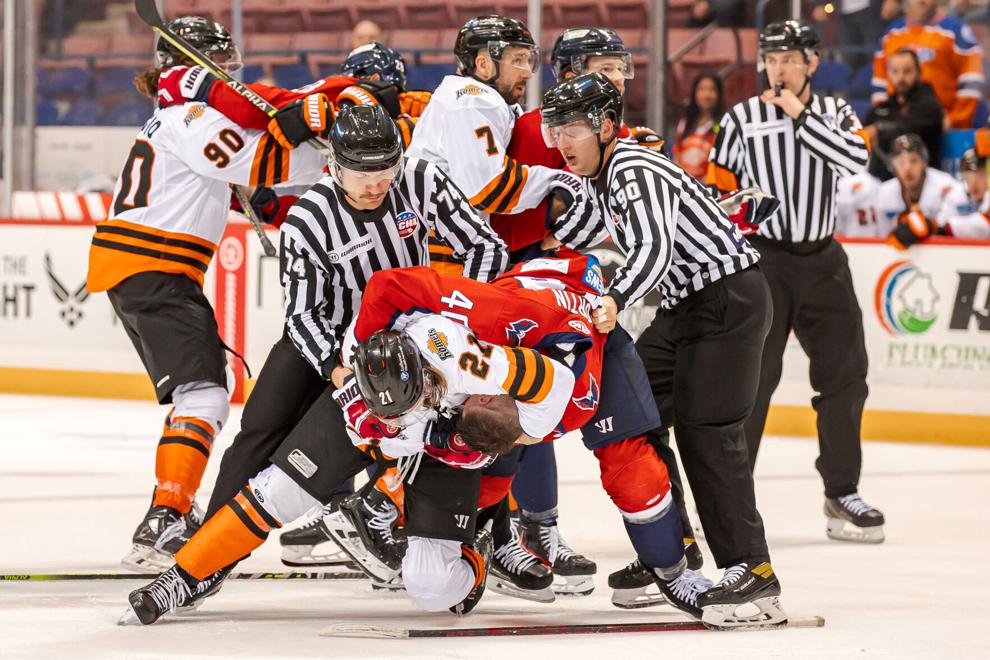 The Komets' second-ranked penalty kill (83.9%) had been solid to that point, including staving off two 5-on-3 advantages. That featured a stop by goaltender Ryan Fanti on an Anthony Del Gaizo shot from point-blank range midway through the third period.
Fanti, a prospect of the Edmonton Oilers, thwarted 37 of 39 shots for Fort Wayne. It was his 12th start in 15 games. This one had a 10:30 a.m. start, and he endured more than a 40-minute break between the second and third periods because of ice problems at the North Charleston Coliseum.
"Defensively, I thought we were great," Boudreau said. "Which asked a lot of Fanti to kill a lot of penalties, which is unfair, but he stood up and I thought our guys were great on the back end.
"The ice conditions were by far the worst that we've played on, but the two teams had to share it. It was no advantage for anybody. The two teams battled and the puck didn't provide for a lot of offense."
The Stingrays' Clay Stevenson, a Washington Capitals prospect, stopped 33 of 34 shots. He allowed a goal to Shawn Boudrias 4:53 into the third period, for a 1-0 Komets lead, after a Mark Rassell setup from the corner. Boudrias and Rassell have been on a tear for Fort Wayne – Boudrias has 11 goals and 16 points in the last 11 games; Rassell has five goals and 11 points during a nine-game point-scoring streak – but their offensive work was undone Wednesday.
South Carolina's Matt Anderson scored from the left circle at 12:17, shortly after Fanti's stop of Del Gaizo, and Fanti kept it tied at 1 by stopping shots at the end of two odd-man rushes set off because Fort Wayne players fell to the ice.
Masonius' penalty was more obstructive.
"Yeah, at the end of the day, two minutes left and us taking a penalty, that's a tough spot to be in when we've played such a good game like that," Komets captain Anthony Petruzzelli said. "Unfortunately, it ended up in the back of our net."
The Komets (25-17-6) lost for only the third time in their last 13 games. The Stingrays (29-15-5) snapped a three-game losing streak.
Fort Wayne was scoreless on four power plays, in the first meeting between the teams since the 2021 Kelly Cup finals, which the Komets clinched with a 2-1 victory in Game 4 at Memorial Coliseum. Both have a handful of players left from that series.
The Komets were fortunate to go into the first intermission in a scoreless game, after they got three of the first four penalties, including one for having too many men on the ice and the other for delay of game because the puck was inadvertently shot into the stands.
Things didn't change much early in the second period. A Tye Felhaber hooking penalty, followed by another delay of game, gave the Stingrays a 5-on-3 power play and Fanti had to make a big stop on Bear Hughes from close range.
That sparked Fort Wayne and it began generating offense at the other end; Fort Wayne had 12 of the period's final 21 shots on goal. The momentum carried into the third period, though Fort Wayne was unable to close out what would have been its first shutout of the season.
"Our five all played well out there on the ice together," Petruzzelli said. "Anytime there was any kind of opportunity in the slot, everybody was collapsing back in, picking up guys. Keeping them away from those second and third chances really helped a lot."
The Komets' next play 7:30 p.m. Friday against the Savannah Ghost Pirates in Savannah, Georgia, where they play again Saturday.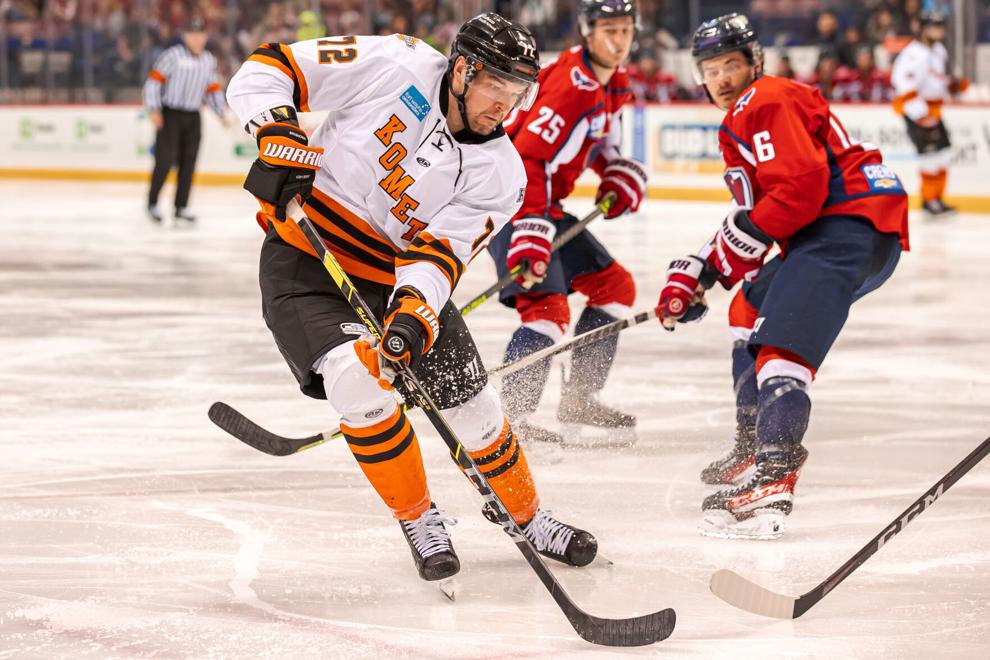 The expansion Ghost Pirates have former Komets players Lynden McCallum, Mason Primeau, Connor Corcoran, Nick Tuzzolino and Jordan Papirny. They're the ECHL affiliate of the NHL's Vegas Golden Knights, who were partered with the Komets last season.
The Komets are 0-0-2 against the Ghost Pirates, losing 4-3 in an overtime shootout and 6-5 in overtime in October at Memorial Coliseum.
Notes: The Komets scratched Oliver Cooper and Scott Allan. … Luka Burzan and Rylan Parenteau remained in the American Hockey League with Cleveland and Abbotsford, respectively. … The referees were Dominic Cadieux and Austin O'Rourke.