Construction on the Komets' roster for their 71st season began in earnest Thursday, when they signed six players headlined by Fort Wayne-native Blake Siebenaler.
The 26-year-old defenseman, who helped the Komets to the 2021 Kelly Cup championship, is returning for a third consecutive year. Last season, he had five goals and 14 points in 32 regular-season games, played 20 games in the higher-level American Hockey League for Charlotte, Belleville and Ontario, then had two assists in the Komets' seven-game loss to the Wheeling Nailers in the first round of the playoffs.
Siebenaler, a third-round NHL draft pick of the Columbus Blue Jackets in 2014, is joined on the Fort Wayne roster by returning players Matt Alvaro, Shawn Boudrias, D.J. King and Jordan Martel, plus rookie newcomer Clark Hiebert.
The Komets open their 71st season Oct. 21 against the Indy Fuel at Indiana Farmers Coliseum in Indianapolis. On Oct. 22, the Komets play host to the Cincinnati Cyclones at Memorial Coliseum.
Alvaro, a 25-year-old forward, totaled 21 goals and 43 points in 65 regular-season games, and added one goal and four points in the postseason. In terms of Fort Wayne goal scoring, he was behind only Anthony Petruzzelli, who had 27 during the regular season, and Will Graber, who had 26.
Petruzzelli is expected to re-sign with the Komets this summer. Graber signed to play in Finland.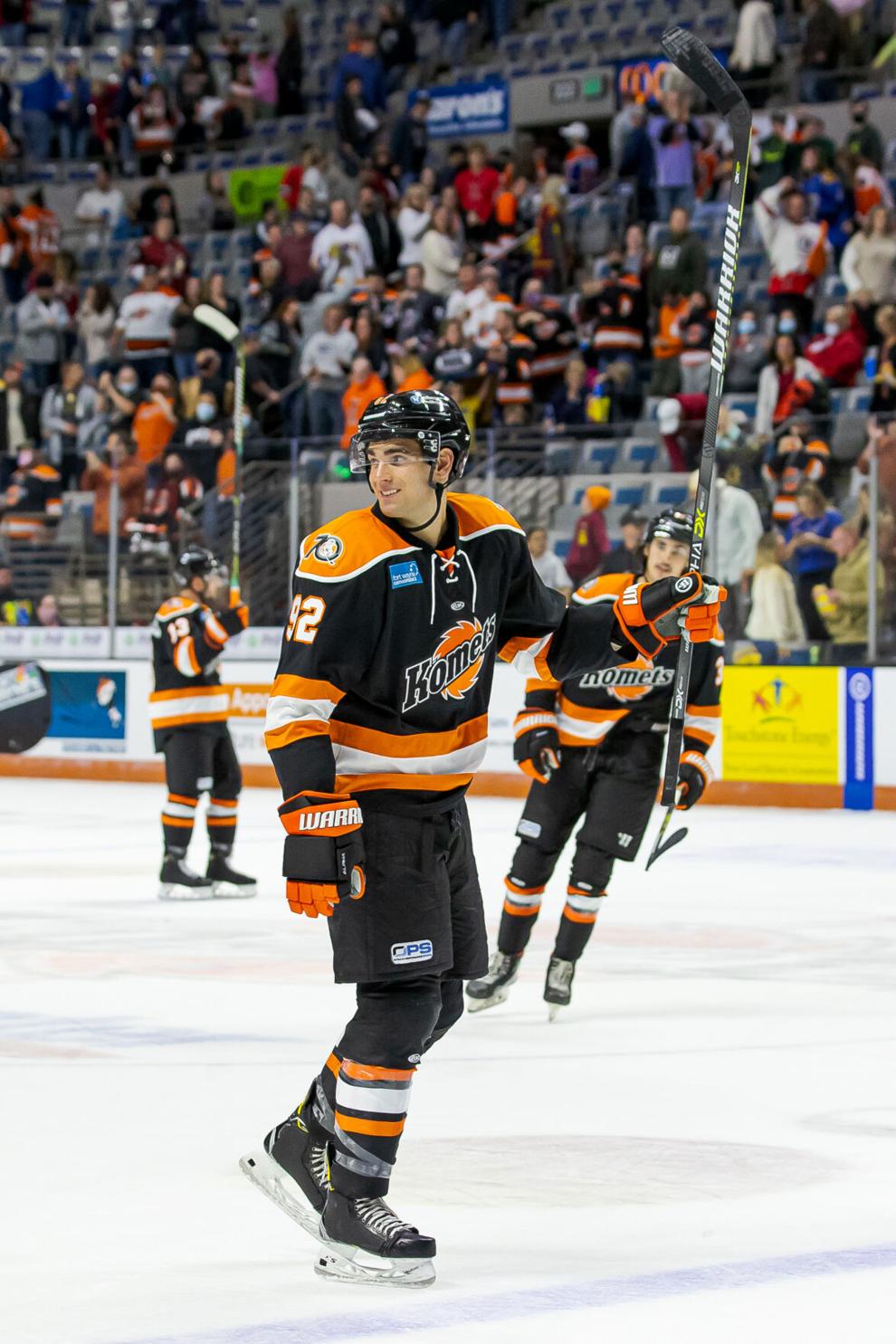 Boudrias, a 22-year-old forward, was fifth on the team with 19 goals (plus 41 points) in 57 games, but he suffered a season-ending knee injury April 10, in the third-to-last game of the regular season, when he was hit from behind by the Kalamazoo's Cody Corbett. Boudrias was a sixth-round pick of the Minnesota Wild in 2018.
King, a 21-year-old defenseman, also suffered a season-ending leg injury, when he was checked Dec. 31. The son of Chicago Blackhawks interim coach Derek King had one goal and three points in 18 Fort Wayne games, also playing once for the AHL's Grand Rapids Griffins.
Martel, a 24-year-old right wing, had two goals and three points in four games for Fort Wayne – including two playoff games – after completing his career at the University of Quebec Trois-Rivières.
Hiebert, 20, a defenseman, skated 48 games last season for the Victoria Grizzlies of the junior-level British Columbia Hockey League, tallying eight goals and 56 points in 48 games.
"DJ King was impressive on defense before he broke his leg. He is healed and is back on the ice training," Komets general manager David Franke said. "Jordan Martel showed he can play at this level and contribute offensively. Clark Hiebert is a solid two-way defenseman who had a great junior career in the BCHL."
Thursday opened a two-week signing period in which the Komets could re-sign players without having to use their eight qualifying offers to maintain exclusive negotiating rights.
Among the players they're believed to be targeting during this period are Petruzzelli, Oliver Cooper, Marcus McIvor, Zach Tolkinen and Tyler Busch. They'd certainly like to get back goaltender Samuel Harvey and forward Mark Rassell, but those players are likely to get interest from AHL teams, so any negotiations could drag on through the summer.
Connor Jones, Kellen Jones and Willie Corrin have retired. Drake Rymsha could be headed to Europe. Shawn Szydlowski was not placed on the team's season-ending roster Wednesday, meaning he can negotiate with other ECHL teams. And Matthew Boudens was also cut free – though he, too, is expected to land in the AHL.
Note: The Toledo Walleye re-signed Brandon Hawkins and Simon Denis, former Komets players. Hawkins was part of the Komets' 2021 championship team and helped the Walleye to the finals this season, when they lost to the Florida Everblades.