The Komets know what it's like to have plans spoiled by the Wheeling Nailers. The first-round loss in last year's playoffs, an upset to be sure, is still felt in these parts.
And it seemed as if Nailers were readying to be a nuisance again, creeping up on Fort Wayne for the fourth and final playoff spot in the Central Division and taking a one-goal lead three times Saturday.
But the Komets' Matt Alvaro tied it with a terrific shift in the third period and Garrett Van Wyhe's second goal of the night cemented Fort Wayne's 4-3 victory over the Nailers, in front of an energetic crowd of 8,283 at Memorial Coliseum.
Alvaro's goal, 25 seconds into the third period, came from just off the left goalpost. Daniel Maggio set him up from behind the net, but Maggio only got the puck because of a bone-jarring Alvaro check of Carter Johnson in the corner.
Van Wyhe's winner came off the rebound of a Maggio shot at 16:08 and Fort Wayne (26-21-6) snapped a five-game losing streak, its longest since October, 2018.
"We were playing good hockey, too, which was the frustrating part," Van Wyhe said of the losing streak. "We just had a few bad bounces here and there. It was good to get this one under our belts and get headed on the right track."
The standard for Komets hockey was set by several of the former players who were in attendance, as the franchise honored, with a short pregame ceremony, those who were part of the International Hockey League's Turner Cup championship teams from 1963, 1973 and 1993, or were part of the United Hockey League's Colonial Cup championship in 2003.
Among the those on hand were: from 2003, Kevin Bertram, Kevin Kotyluk, Adam Lewis, Michel Massie, Troy Neumeier, Kevin Schmidt, Bobby Stewart, Sean Venedam, Jake Ortmeyer, Shawn Dundon and Dustin Virag; from 1993, Ian Boyce, Lee Davidson, Guy Dupuis, Steve Fletcher, Joe Franke, Scott Gruhl (whose son refereed Saturday's game), Kelly Hurd, Carey Lucyk, Kevin MacDonald, Derek Ray, Pokey Reddick, Grant Richison and Joel Savage; from 1973, Bob Fitchner and Robbie Irons; and from 1963, Chuck Adamson and Eddie Long.
They got to see Fort Wayne-native Blake Siebenaler score a goal for the Komets. Alvaro had three points. So did Maggio, who skated at forward instead of his usual defensive position. Maggio, though, has extensive experience playing forward in the higher-level American Hockey League.
"Honestly, I remember going back to the Conference Finals six years ago for us and in Game 7 (against Colorado), he would play the point at one time and then be net-front the other time, and he's the ultimate utility guy," Fort Wayne coach Ben Boudreau said. "It's the same thing now. We've got him as a power forward on the right side, quarterbacking the power play on the back end, and he's a guy who understands these big moments and big games."
Fort Wayne goaltender Ryan Fanti stopped 24 of 27 shots, including a Peter Laviolette penalty shot.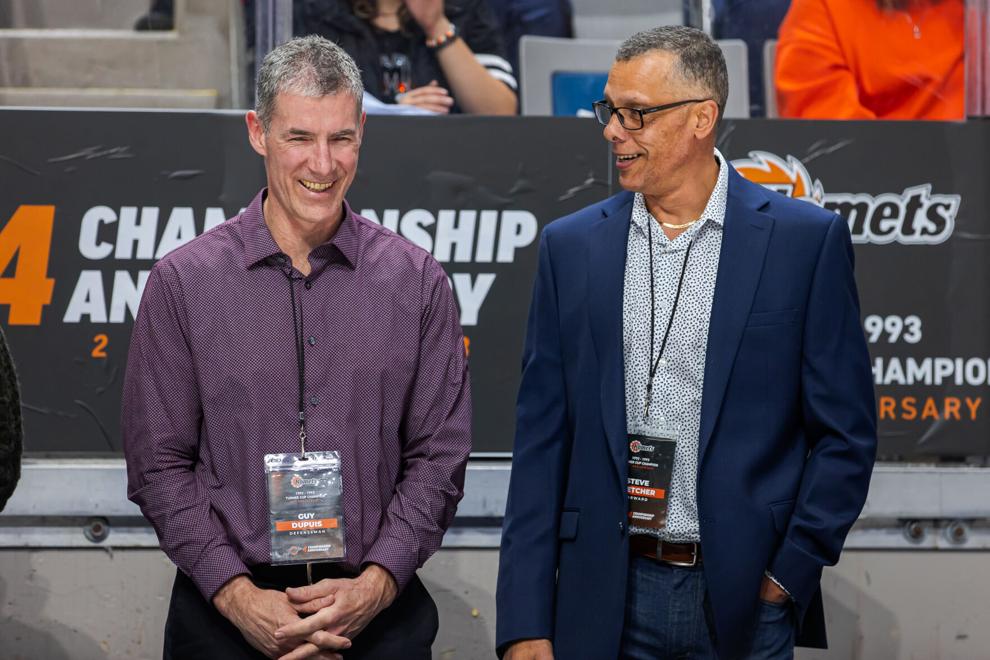 For Wheeling (23-26-5), which is seven points back of Fort Wayne with 18 games left in its regular season, Brad Barone thwarted 31 of 35 shots and his team squandered the lead.
"We just stick together. I think that's the biggest thing," Van Wyhe said. "I think we do a good job responding after goals or big plays, where they have the momentum, and we just have a resiliency. We don't give up, we never do. We're going to play till that last whistle."
The Nailers' Cédric Desruisseaux opened the scoring just 4:37 into the first period with a backhand shot from 15 feet out, after the puck ricocheted around the zone crazily.
Playing from behind in the first period has become habitual for the Komets; they've allowed the first goal in 31 of 53 games and have a record of 14-12-5 in such contests.
Barone preserved the early lead by sliding to stop a Mark Rassell attempt from point-blank range at 9:50. But he couldn't prevent a Van Wyhe breakaway goal at 10:55, which came after Van Wyhe blocked a Jack Van Boekel shot at the Fort Wayne blue line.
Wheeling's Sean Josling scored a power-play goal from the right circle, for a 2-1 lead, at 12:40. Wheeling was 1 for 3 on power plays, Fort Wayne 0 for 3.
Siebenaler tied it on a shot from the left circle, after a cross-ice pass from Alvaro, and it stood up at 17:56 after video review to determine if Maggio had interfered with Barone. Maggio was checked into Barone by a Wheeling player, though, so referee Logan Gruhl ruled it should count.
The intensity ramped up 2:56 into the second period, when Fort Wayne's Oliver Cooper fought Van Boekel.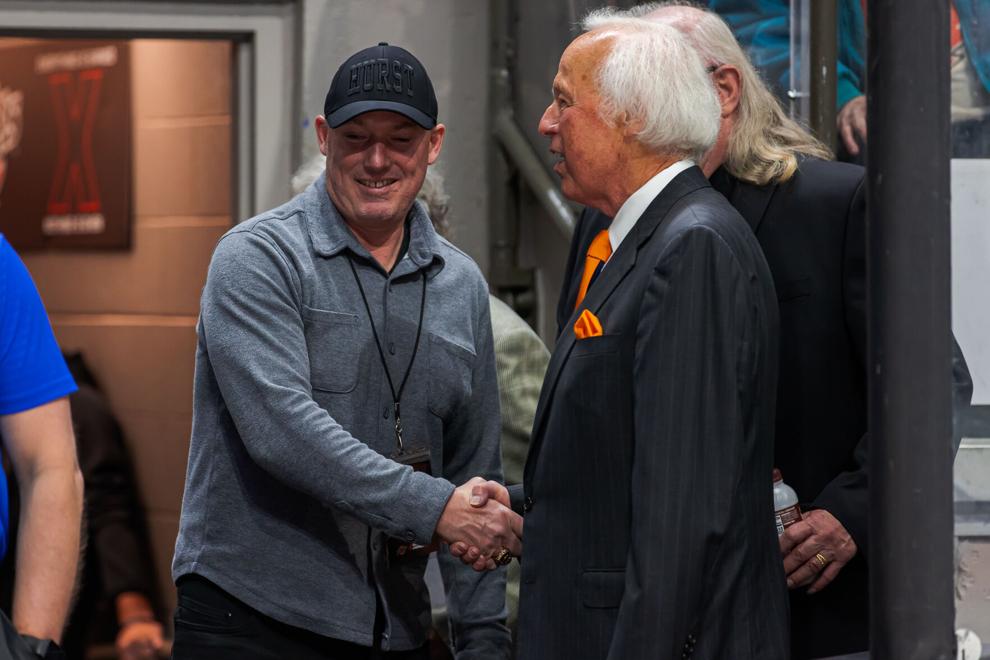 Laviolette was awarded the penalty shot at 4:39, after he cut through the defense and was hooked from behind by Maggio. The Nailers sent the wrong player out to take the penalty shot – Brooklyn Kalmikov, perhaps intentionally – but Logan Gruhl caught it and then Fanti thwarted Laviolette.
Wheeling's Jordan Frasca scored from the left circle for a 3-2 lead at 6:56, shortly after Fanti stopped a 2-on-1 rush, though Fort Wayne argued unsuccessfully that Frasca's goal was set up by an illegal line change.
"That's something we've talked about for a long time – being resilient," Boudreau said. "Before the five games that we lost, that was something that we always did, we'd get down and come back. That's been in us for a long time. The difference tonight was we earned our bounces. The one at the end, that's a good bounce that we earned and it landed on our stick. We hadn't had that in a while.
"We did the same things, and put in the same type of effort, that we have the last four or five games. But I thought our discipline was pretty good tonight. We didn't give that team very much and we were just patient in our game plan with the same idea that if you put the pucks to the net, you're going to earn your chances. We got rewarded with a big one at the end there."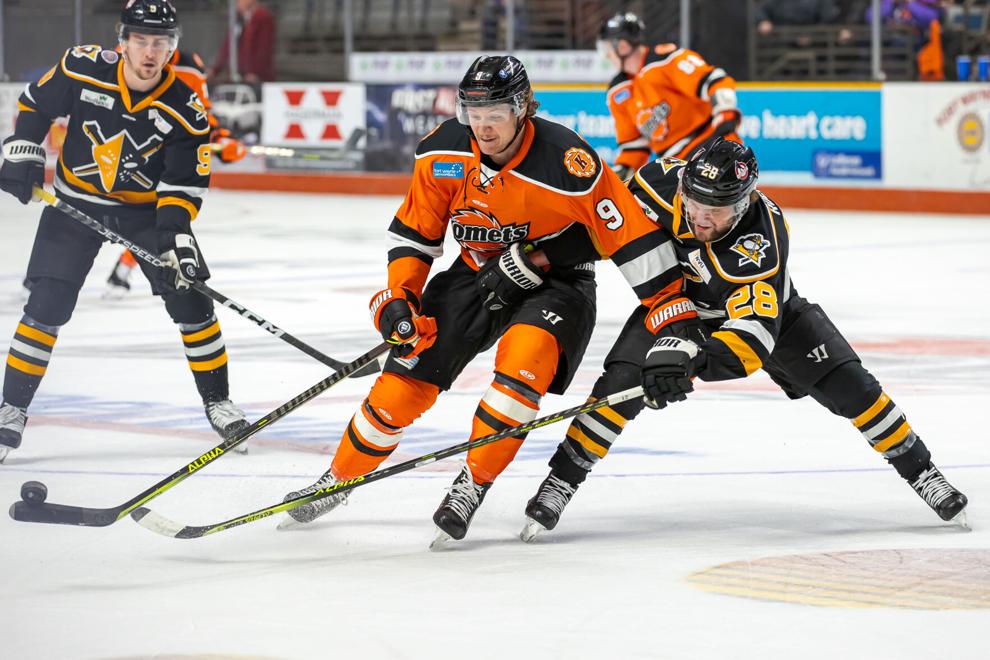 Notes: The Komets played without forward Stefano Giliati (shoulder); Tye Felhaber, who is in the AHL with the Milwaukee Admirals; and Rylan Parenteau, who is in the AHL with the Abbotsford Canucks. … The Komets play host to the Iowa Heartlanders 5 p.m. Sunday at the Coliseum.